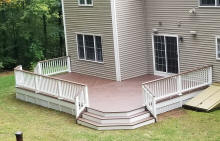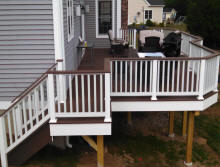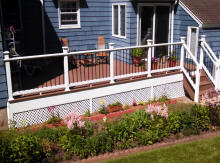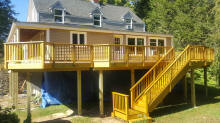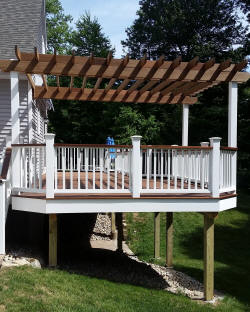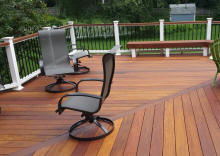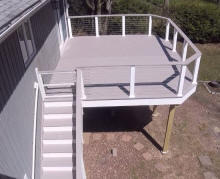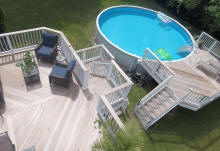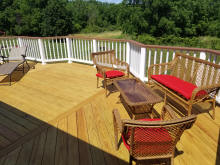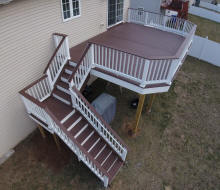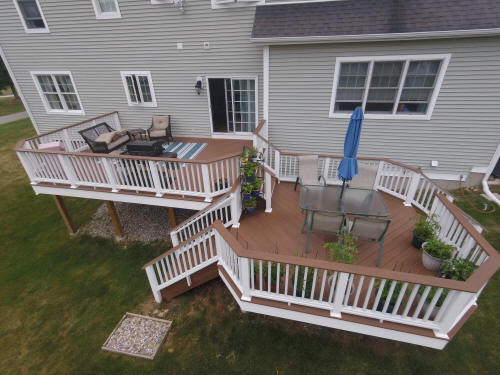 For 30 years we have been designing & building quality custom decks. Centrally located in Connecticut CT, Deck Specialists Inc. is locally owned and operated. We are your local CT professional custom deck builders. We design & build your exciting new deck utilizing our innovative building techniques & complete woodshop. We work with you to design your deck with as many high end features & materials as possible within your budget. We specialize in Ipe (ironwood), & Azek PVC composite decking. Offering free estimates and no hard sell, we feel our product sells itself!, checkout our online pricing and quotes pages. Review or pages on Ipe, composites, & vinyl materials ,and visit our about us and FAQ pages
"Very High End Product At Competitive Pricing! An Exceptional Value!"
"Excellent service! job was completed quicker than anticpicated! ,very professional contractor, jobsite was clean and safe each day. ready to get started?
IPE We are Connecticut's pro Ipe deck builder specialist. Ipe, is denser then Teak & oak and belongs in the "ironwood" family, Ipe is the toughest outdoor decking second to none, many outdoor boardwalks and shoreline projects where durability is key were constructed using Ipe. We also advocate Azek pvc composite decking, a superior high quality compoiste decking with the highest customer satisfaction, best performance, fade, scratch and mildew protection and many colors to choose from, We produce out own solid vinyl lumber rails the best in the market, and the new safer treated lumbers.
Also popular is deck refurbishing. We upgrade your existing framing with new decking, rails and stairs, often expanding with a new improved deck design. Check out our exciting before & after page. Consider Deck Specialists for your next staycation! contact us: 1.800.231.DECK (3325) Decks@cox.net Contact Us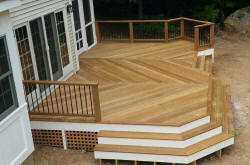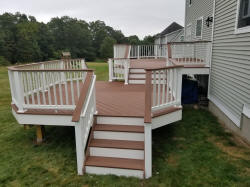 Looking for a custom local pro deck builder in Connecticut?, We specialize in azek and ipe,and hand picked treated lumber decks. Contact us today for free estimates and design consultation, you will not find a better more reliable decking contractor specializing in replacement, custom, high end, deck extensions or additions & refurbished decks. We offer custom deck designing, working with you and your budget. With a wealth of experience, and no hard-sell tactics, we at deck specialists make the deck shopping process so simple.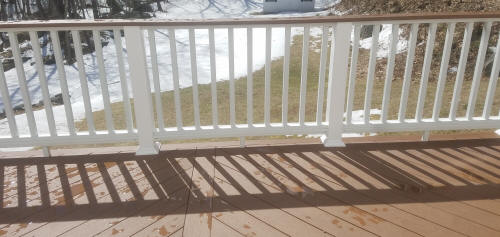 We also make the deck building process very easy for the homeowner, we can handle all the permitting, we rarely need access to the inside of your house, (so no need to schedule days off form work), we maintain a very clean worksite, and do not store materials on site, we're very low impact on your yard and driveway. We have a great deck construction system and most people are amazed at how quickly and efficiently their project came together, and how well constructed and the high standard of workmanship . Even the initial quotation process is as easy as can be, we can often design and quote your project with just a quick trip to your home or information received thru e-mails. We can quote many different scenarios based upon different deck sizes or designs ,different materials, options and your budget. please review our many deck pictures or photos, these are all examples of our decks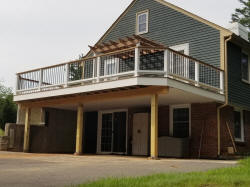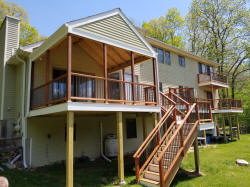 5 Reasons Deck Specialists Inc. Should Build Your Deck