There is no such thing as a maintenance free deck. Every deck surface, whether Ipe, treated wood or tim composites will feel the effects of the outdoors. Mold and mildew, dirt, grease, tree droppings, leaves, sun and rain are all tough on your deck. When it comes to deck maintenance, every case is different. Crucial factors include traffic, pets, insects, tree coverage, sun exposure, and believe it or not, the amount of glass on the rear of your house. The primary

cause of treated wood deck aging seems to be direct sunlight. Extreme exposure bakes the wood, drying and splitting it prematurely. This dry wood then readily absorbs rain water like a sponge. It's this shrinking and expanding cycle that causes wood to split, the grain to raise and splinters to form. This is why a deck on a house with tons of windows on the back magnifying the sun and directing it onto the deck age very quickly. Sometimes a brand new deck may appear faded or sun bleached after only a couple months in such locations. Ipe is not likely to be as affected by these cycles as it is incredibly dense and absorbs little to no moisture, but can be difficult to maintain a finish in these tougher environments. The composites may fade a bit more in strong light situations but do ok other then that.
In darker or moister environments mold and mildew can become a problem, and here the composites suffer equally. Mold will thrive in warm, damp dark areas and attach to any semi-porous surface, the spore colonies spread easily and can be tenacious to clean and remove.
We weather seal all our Wood decks immediately upon completion of work using a good penetrating oil based product, either Cabot's or Sikkens, depending on the wood and finish wanted. The myth is, or was, that you let the wood age, especially pressure treated or cedar lumber before applying deck sealer. Newer deck sealing materials are formulated to go on new wood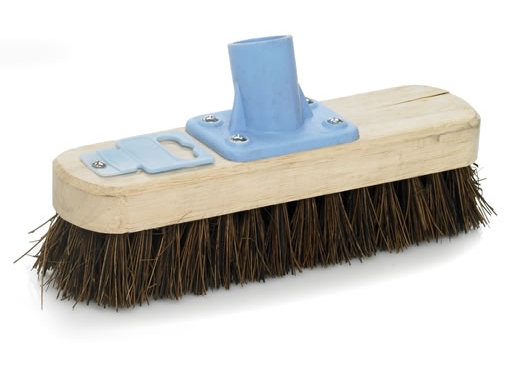 with high moisture content immediately. This is great news since much of the damage due to accelerated drying can happen in the first month after the deck was built. A good double coating (wet on wet) is the foundation to longevity. Next is periodic resealing or staining. It may be necessary to sand or clean the wood surface after awhile before reapplying. Depending on how dirty the surface is you can clean using regular bleach and water mixed with detergent, or higher prices deck cleaners. Usually, a stiff brush and a little elbow grease goes a long way, but in extreme cases a pressure washer comes in handy. Just be careful not to harm the wood instead of just cleaning it. A nice little random orbit hand held sander is a great tool for cleaning and smoothing rough areas or just knocking down raised grain. This does not make you a slave to your deck as we are talking about a couple of hours maybe twice a year. (You do wash and wax your car twice a year don't you.)
Intervals of reapplying is strictly on an as needed basis. Better weather sealers and stains penetrate the wood and last longer, but don't usually contain paraffin waxes like the cheap products do, so they might still be working fine even if water isn't beading up off the deck like your car's finish. Just watch the color of your wood and see if the sealer or stain is drying up or the color is starting to fade. Try to keep your deck relativity clean from leaves and tree droppings. Generally sealers or stains with a little color or tint last longer than completely clear sealers. Ipe is very dense and will absorb very little stain or sealer at any one time, so it is important to build up several distinct light coats over a time.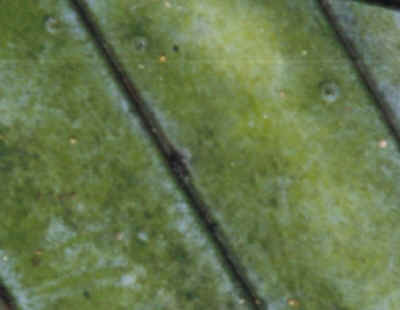 Here is a prime example of a early maintenance free deck. As you can see mold is just as happy growing on recycled plastic and oak pallets as it is on new wood! this early composite decking has swollen which prevents good drainage and accelerates the growth of mold. Newer composites have addressed these problems and are less likely to swell but it is still important to maintain proper spacing.
The solution for mold and mildew.... regular cleaning with bleach and water, or various deck cleaners (ex: T.S.P. trisodium phosphate). there are also enzyme cleaners available and deck cleaners aimed at composites like Corte.clean. Also required will be some good old fashion elbow grease IE scrubbing, or careful pressure washing, as mold be stubborn to completely remove.
Just don't give mold a chance to grow. If your deck is subject to mold, then cleaning dirt and bug or tree dropping off before mold has somewhere to attach and grow is the key.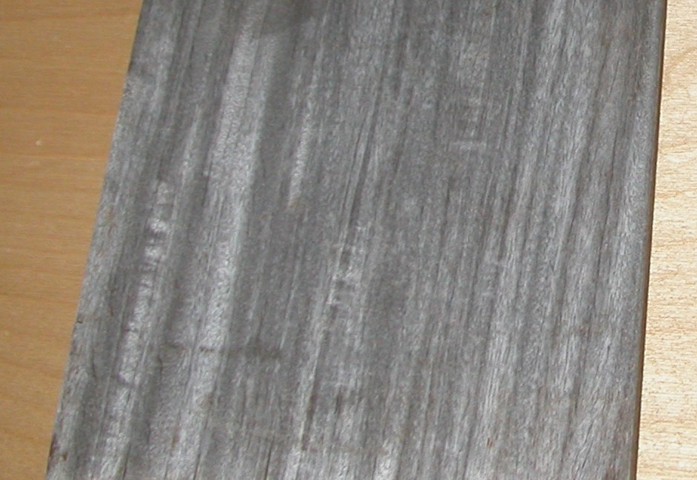 Ironwood or Ipe decking is considered to be the best outdoor decking product. Its durability is second to none. As close to a zero maintenance deck as possible. Ipe when allowed to age becomes a beautiful silver patina. Of course many customers love the rich deep natural colors on the wood and choose to maintain the finish with periodical oilings. But, when allowed to patina, Ipe will not rot or decay, and will remain smooth and splinter free. Ipe's tight dense grain will also supply less tooth for mold to attach to then most others woods and composites.(not to say mold will not grow on Ipe) Pictured here is Ipe that has seasoned a few years outside with no sealers. Please notice the tight splinter free grain structure and overall handsome appearance.

Regular Maintenance will greatly influence the beauty and longevity of your deck.