Composite and PVC decking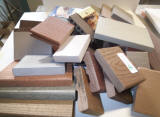 Confused about the plethora of composite decking choices? Not to mention the new cellular PVC decking materials? Well, you are not alone.
Letís return to 1992 when PT, cedar, redwood and mahogany(ipe was less known) decks ruled the roost. Mobil oil buys Trex technology ( then called Rivenite ). They coin the term ďcomposite deckingĒ and spend tons of money of advertising and informing the public about Trex and the birth of the composite decking phenomenon is off and running. Now, fast forward 16 years, there are now dozens of composite decking companies and so many choices it boggles the mind. Even Trex now make 6 different type of deck boards. Which one is best? Which one will be around in 20 years? 10 years? Next year? What are the advantagesí of one composite material over another? What is cellular PVC? There are as many answers as questions, and everyone has their favorites, or opinions on what makes their composite the best. Often times it is just a matter of pushing the most readily available product. Many materials have already come and gone, or changed to suit the trends. This can be a real pain as last yearís version of your favorite composite might not match this years. You maybe be working on multi-stage project and matching the materials on the previous stage is a must.
Rather than grouping all the composites and manmade decking materials together we can look at them broken down into the following categories.
(note more info available here http://www.deckspecialists.com/composite_deckmaterials.htm and our composite page http://www.deckspecialists.com/composites.htm )
Basic composites: single color simple grain or combed finish, mixture of recycled wood fibers, dust or flour and a plastic binder usually HDPE(high density polyethylene) mostly in the 50% plastic 50% wood range. These will be the cheapest boards and perform ok. Most will look similar, and have basic color choices, require some periodic cleaning, and care should be taken not to scratch or stain the decking.
Enhanced composites: will have multiple color hues to more accurately simulate a natural wood species.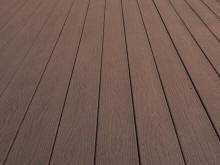 High end composites: a composite with superior grain and higher quality materials, finer wood dust or flour (usually less wood and more plastic), a better extruding process, better mix of polymers, still mostly HDPE but also polypropylene can be used for more strength ,often coextruded with harder surfacing, offering anti-microbial, scratch resistance, and/or UV protection. These boards will have a great deal of variety in color, texture or surface graining and many the most natural looking of the man-made materials, often looking very similar to desirable real wood species. Again ,some cleaning and preventive care will be necessary. Pricing on the group with range from affordable to quite expensive depending on the product, there are some very good buys in this group as well as some that are very pricey.

Cellular PVC: Originally developed by Procell, now owned by Azek, a process where PVC (poly vinyl chloride) and sometimes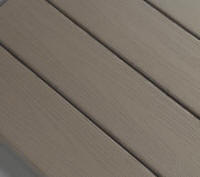 a filler (processed flax seed or rice husks.)where extruded PVC is whipped into a less dense (about Ĺ as dense as solid PVC) aerated foam resulting in a extruded material with a shiny hard surface and the working characteristics of wood. This is much different from the ordinary hollow PVC materials we are used to seeing. Cellular decking materials are gaining popularity and now even many of the composite manufactures also produce a cellular board. Cellularís tend to be lighter and easier to handle, strong and tidy and less likely to scratch or stain. Fastening cellularís is a breeze (no need to predrill or use special screws). But most are susceptible to chalking and definitely look less natural or more man-made. Another trend in high end composites and some cellular PVC decking boards are co-extrusions or a bonded outer layers . These processes result in a ďskinĒ or outer layer of the decking board that has different qualities then the core. Usually the outer skin will be more colorful, have enhanced grain, be harder or more scratch resistant, have some sort of anti-microbial qualities or mildew resistance, and often UV resistance.
Pricing: composites and cellularís range greatly in cost, your basic composites, which are more than adequate for most projects are going to be your best buy, but still rely on petroleum and are influences by the oil market. Expect to pay quite a bit more then treated wood for even the cheapest basic composite (roughly 3 times), but remember you still frame the deck from treated wood which is a large part of the overall materials. The higher end composites and Cellular PVC boards can get outright expensive, some in the $3 and up linear ft area (this is exotic wood pricing!) These high end features come with a high price tag but the higher end composites do outshine their low cost competition.
Your choice: choosing what composite to go with is not an easy choice. It would be great if there was an easy answer to what is the best composite, but to be fair there are many great products and there are many types of composites and looks. What may be desirable to one person may look to fake or man-made to another. It can even come down to, what composite companyís colors best match your house. Some composites look to be natural or emulate a natural wood species while others do not even try to look like wood. There are budget composites that may appeal to some for the obvious reason. The cellularís and many of the higher end composites are popular right now as we search for a better and better product. The co-extruded high end boards promise less scratching and staining, and even less chance of mold and mildew growing, and therefore less cleaning. As many of the newer products are not time tested we will see if they live up to their promises and we will see who will stand the test of time. The soft economy of last year has already left several composites for dead, and other companies scrambling to merge and consolidate their efforts for profitability. If we have another drastic oil price spike you can be sure all these products will be greatly affected. Still all of the todayís products are light years ahead of the first generation Trex boards.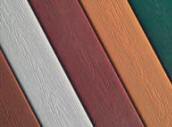 Another special consideration when building composite decks to be aware of: With all the different colors and types of composites and many of them being special order, it can be frustrating when ordering materials for a project. You want to have enough materials to finish the project and you donít want to cut it too close or short yourself. But, you donít want to sit on several boards (or more) of every color and style of decking product you have worked with. In fact this can add quite a bit of money to each job, especially when you cannot return the extras at all (sometimes there is just a restocking fee). It is just a shame to see a short stack of perfectly good composite decking tossed in the dumpster of finding their way to the landfill because the job is done and there is no home for the extras. With standard materials like treated wood or ipe etc. you simply order a bit strong and use the leftovers on the next job, it just gets very tricky with all the variety and colors of composites. Some builders and suppliers will just stick to one or maybe two composite brands and limit the amount of colors they offer to combat this.