Each deck is built custom to the given house with many design factors and options. Many considerations are taken into factor when pricing your deck. Examples are (Height, Distance from vehicle unloading, Complexity of project, Rail choice, Flooring pattern, Deck options, Teardowns, Digging conditions, Etc.) As most of our decks are elaborate designs incorporating multiple levels and many options most projects are carefully and individually priced, however, below are pricing tables for a standard deck (still quite elaborate with many custom features including chamfered corners, herringbone decking patterns, custom rails, routed stairs, etc.) We would need to visit your jobsite to verify measurements and conditions.
Remember, we will be happy to give you an on-line quote from your photos of your house and sketches of your ideas, and we will work with you to design the perfect deck for your home.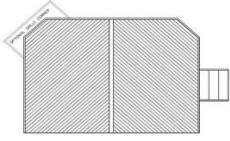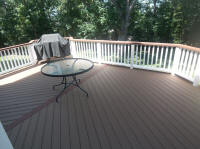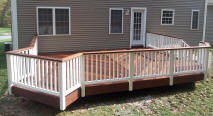 Standard deck pricing tables (as pictured above with herringbone decking and chamfered corners)
PT

Pressure Treated Deck

Low Deck

Elevated Deck

Low Deck

Elevated Deck

Requires 2nd beam

Low Deck

Elevated Deck

16'x12'

$7975

$9180

16'x14'

$8340

$9440

16'x16'

$10,650

$11645

20'x12'

$9870

$10980

20'x14'

$10,840

$11,950

20'x16'

$12,975

$14,075

24'x12'

$11,580

$12,680

24'x14'

$12,700

$13,925

24'x16'

$15,540

$16,400
Ipe

Ironwood Deck with Ironwood or solid vinyl rails (white)

Low Deck

Elevated Deck

Low Deck

Elevated Deck

Requires 2nd beam

Low Deck

Elevated Deck

16'x12'

$10,800

$12,300

16'x14'

$12,200

$13,500

16'x16'

$13,975

$15,120

20'x12'

$13,445

$14,980

20'x14'

$15,200

$16,700

20'x16'

$17,420

$18,490

24'x12'

$15,800

$16,975

24'x14'

$17,375

$18,200

24'x16'

$19,965

$21,700
Composite

Azek with solid vinyl rails (white)

Low Deck

Elevated Deck

Low Deck

Elevated Deck

Requires 2nd beam

Low Deck

Elevated Deck

16'x12'

$10,660

$12,155

16'x14'

$12,430

$13,600

16'x16'

$14,230

$14,980

20'x12'

$13,420

$14,670

20'x14'

$14,960

$16,340

20'x16'

$16,870

$17,940

24'x12'

$14,680

$16,255

24'x14'

$16,915

$17,986

24'x16'

$19,270

$21,930
OTHER COMPOSITE MATERIALS PRICING ON INDIVIDUAL BASIS *bold prices indicate best value
* Low deck is defined as 16" to 5' above grade, Elevated deck is defined as 5'-9' above grade

*

Pricing is for complete deck with rails and one set of 40" wide stairs

*

To add grille corner to design add $375 PT or $525 Ipe

*Additional charges may apply for long distances traveled to site ,long distance to carry materials, any extra difficult or dangerous working conditions
Deck Specialists Inc
accepts credit card payments thru
paypal.com
the #1 secure online payment company
custom deck shapes Deck Specialists inc, will custom design you an exciting new deck ,here are just a couple examples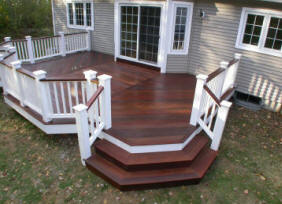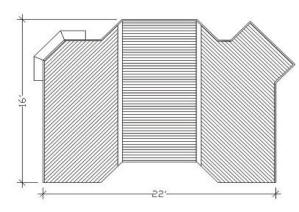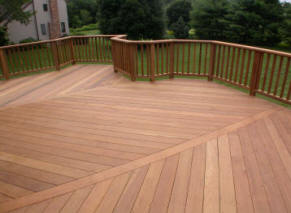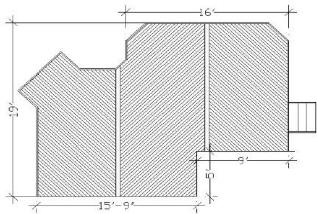 Ipe or ironwood decks: Although board for board ipe costs nearly 3 times pressure treated lumber, you will not expect to pay 3 times as much for an ipe deck. Much of the lumber used in an ipe deck remains treated lumber (the posts and beams and joists that make up the framing). The fact that Ipe is so strong allows us to use 3/4" thick decking with full confidence, again keeping the price manageable. The average Ironwood or Ipe deck will typically run only 150% of a similar treated deck.
Composite decks: Composite or recycled decking products at this time are quite expensive to purchase and use. The actual material although recycled cost much more then regular treated lumber. Another cost factor with composites is the extra framing needed to support the weaker material. This brings a finished composite deck, at or above the ironwood Ipe pricing. No one is sure what long run value a composite deck may hold. Also, at this time no one knows for sure what the usable lifespan of a composite deck may be.
Vinyl railings: A very popular choice for railings are solid Vinyl or plastic lumber. We use a solid plastic lumber rather then hollow extrusions. We feel this solid plastic lumber is much stronger, safer, and less likely to crack than extrusions. At this time solid Vinyl is pretty costly but surely a great investment! Vinyl has almost taken over the house siding industry and is sure to make more and more impact on fences and railing
Do Decks Add Value?

According to a recent report, a typical American homeowner who adds a deck to their home could recoup 75-150 percent of the total cost if the house is sold within a year of the deck's construction. We have seen some great value increases on high end custom decks, easily in the 120-150 percent range.

Many experts suggest that a deck be designed as an extension of the living space, not as a simple rectangular appendage to the house. Not only will this provide your home with more usability, but also a deck is high on the wish list of almost everyone who lives in the city. If the home doesn't have a deck, buyers add one, especially if it can take advantage of a view. Most houses in our area are expected to have a nice deck, and you may actually lower the value of your house with a lousy deck. Surely the desirability will be affected if the proper deck to match your house is not intact.

In the suburbs, a deck certainly adds to the marketability of the house.
Buyers can easily imagine themselves outside enjoying a suburban lifestyle, complete with grill.
Here are some things to consider when thinking about decks:

* Deck maintenance can be a big issue. Protect your deck as needed and do not let it get away from you. Form simple cleanings to periodically resealing, it is not that difficult as long as you stay ahead of it.

* Consider solid vinyl railing and ironwood decking. They are very attractive and actually cost effective, adding great value to your home.

* Build a larger deck than you think you need. With patio furniture and accessories, most people end up needing more space than originally planned. Consider your grille, stairs and traffic pattern
Decks are an excellent way to add value as well as create outdoor space for your own enjoyment. Depending on the time of year, you can use the deck to expand your living space with grills and perhaps even a hot tub.