PT Pressure Treated Decks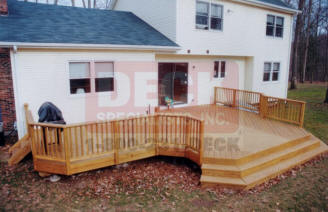 Dollar for dollar still your best deck buy. when you need a new or replacement deck and Ipe or composites are not in the budget, you can still count on us to build you a quality treated deck that will get all the attention to details our high end materials decks do. We have been working with treated wood for twenty years and we know how to make treated wood decks hold up outdoors, maybe not quite as good as Ipe or composites, but we have techniques to minimize the short falls of treated wood.
We hand select all our treated lumber and we know what defects to look out for that can become problematic in the future.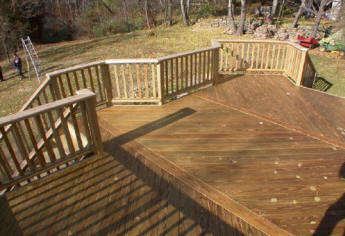 We surface sand and seal the treated wood quickly before the majority of shrinkage can occur, this shrinkage leads to the raised grain and splits, the biggest problem with treated wood decks. Most builders have no urgency getting the raw PT decks sanded and sealed, and some still believe it is best to wait a season. Damage early in the lifespan of PT wood leads to much shorter life span, and certainly cosmetically a much less desirable deck.
We use quality screws for our treated decks set just below the surface, so no nails popping up to worry about. We also fasten the decking boards very tightly together to compensate for natural shrinkage of treated wood. We are conscience of the correct spacing, Improper spacing,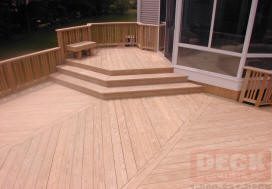 especially of treated decks will lead to dangerously large spaces . We know what side up to install each decking board .
We use a bendable vinyl flashing which is perfect for pressure treated lumber with special "ledger locks" ledger bolts, in fact all the hardware we use is rated for today's pressure treated wood formulas, we also now when not to use a unnecessary ugly fastener, although the makers of these deck hardware products would be happy to sell you a piece of expensive stamped metal to go everywhere they can dream of.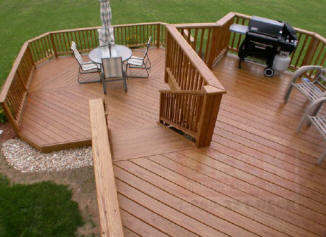 We build many of the custom deck components for our treated decks in our woodshop. Our rails are built from scratch using our jigs in a controlled environment, our post our pre notched, many landings, benches and planters are assembled in our shop as well. We also route our stair stingers in our shop and even pre-assemble many of the shorter sets of stairs.
Check out our treated deck photo gallery.
We make sure all of the treated wood that goes into our decks does not dry out like the wood you would find in the big box stores.