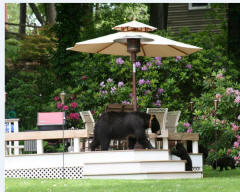 We are a custom decks company servicing the Hartford Connecticut area since 1989. We specialize in Ipe or Ironwood decks and have pioneered using the fantastic wood for a number of years. We also have been working with a solid vinyl lumber or HDPE (mostly for rails and fascia) as well as Azek composite PVC decking. We have advocated the use of quality screw construction rather then sloppy decks blasted together with nail guns from the beginning. From the design process, through the CAD drawings, permitting, and building, we handle everything professionally and efficiently. We build all our own decks! and do not sub contract our work, we stand behind our product.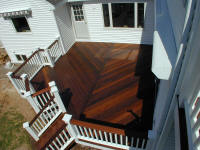 We design and build approximately 40 custom and high end deck projects per year in the greater Hartford area. We are committed to building the finest deck with the best possible materials, and still in your budget. Although, we do still build a fair share of pressure treated custom and replacement decks most of our custom decks are composite decks (azek pvc) or Ipe (ironwood) or tigerwood with our white solid vinyl rail system (the best in the industry).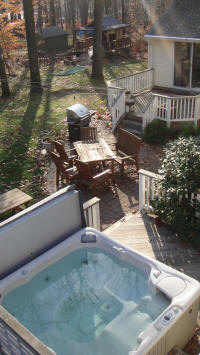 We call ourselves a custom deck company and pride ourselves on our ability to offer many "custom" features at standard pricing levels. We are always finding ways to give customers the most wow factor possible without breaking the bank. During the design process we work to develop an exciting design with a custom deck feel, but a manageable time frame. New customers are often amazed at how quickly and efficiently we can construct even very elaborate decks. We have been around a long time and are careful not to jump on any new bandwagon that comes along without testing and evaluating whether you the customer are receiving a good product. A good example of this is when Trex first came out, we were hesitant to sell Trex decks, we were immediately aware of the possible shortcomings like staining, scratching, sagging etc..note today's new composites have addressed these early composites problems.

We have a complete wood shop and prefab many of the more intricate components of your deck (rails, stairs, benches, etc.) this both improves the quality of these components and shortens the build time at your home.
We only deliver the materials we need for each day, and will leave your site safe, clean and secure at each days end. As we are working outside your home, we never put you out ,or make life difficult for you in any way. We remove all our waste materials and are very low impact on your yard.
We have many very happy customers who recommend us highly, so please consider us for your deck project
we are constantly testing new materials, finishes and hardware so we can stand behind hat we use

We are a locally owned and operated custom deck designing and building company
List of towns we service in Connecticut (CT) :Avon, Bolton, Canton, Colchester, Coventry, Cromwell, East Granby, East Hampton, Ellington, Farmington ,Glastonbury, Granby, Manchester, Marlbough, Middletown, Newington, Rockyhill, Simsbury, South Glastonbury, South Windsor ,Tolland, Vernon, Wallingford, West Hartford, Wethersfield, Windsor If you live in these towns we are your local deck builder