Order your Ironwood (ipe) sample today just $10
shipping included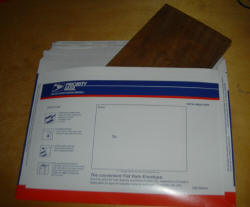 So you have heard all about ironwood but would like to see it up close and in hand. $10 to your door gets you a sample piece to love and hold.
to order mail check to:
Deck Specialists, inc. c/o ipe sample
PO box 2001
Manchester CT 06045 or click paypal button below
2x12 Ipe slab cutting board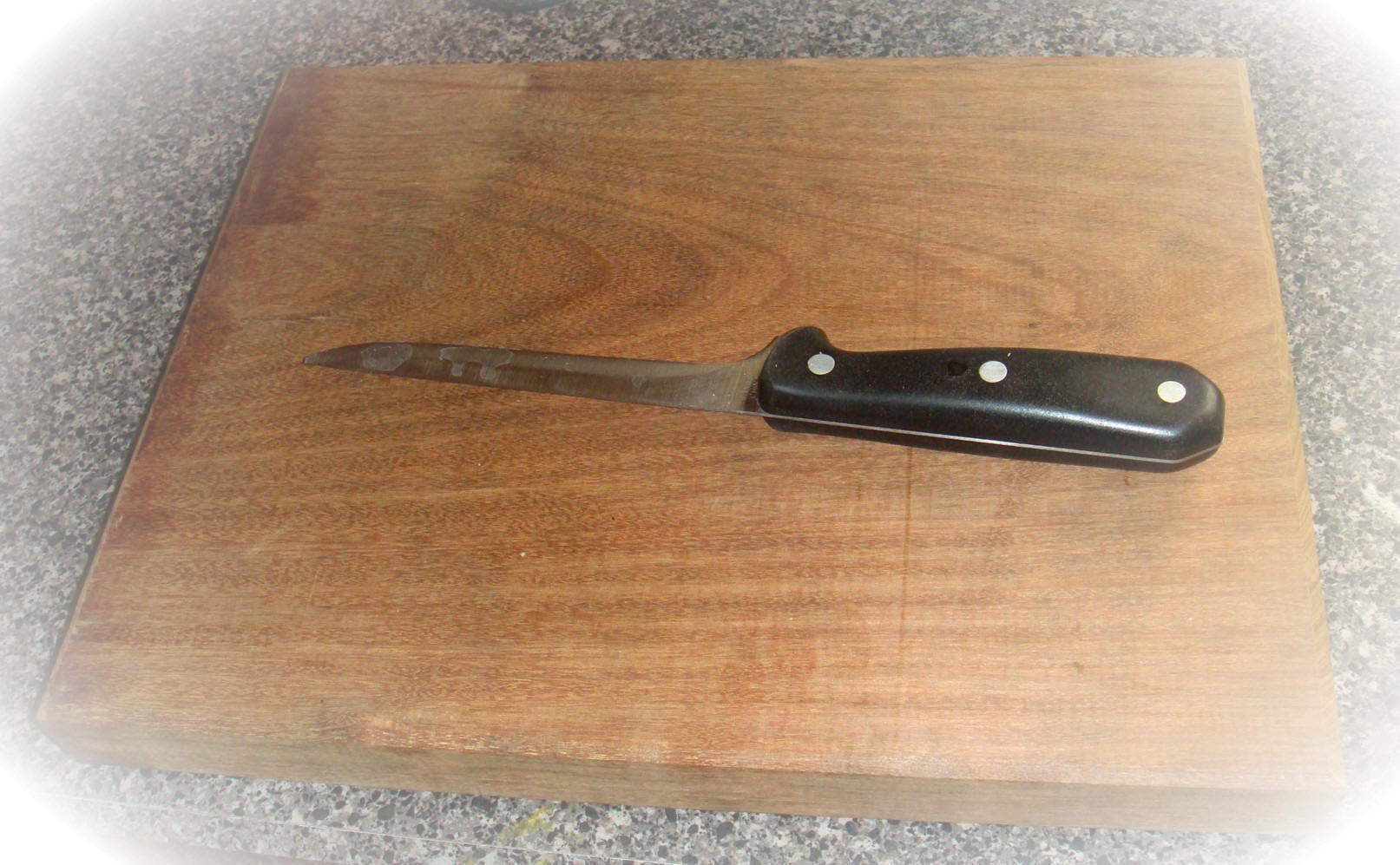 our 2x12 cutoffs from stair constructions make awesome cutting boards, no other wood is denser!
very impressive conversation piece, and although super dense and hard, will not damage your knife.
$40 delivered to you door in the US
Solid Vinyl Railing King Posts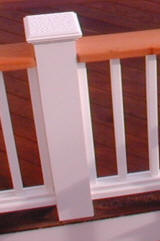 These majestic king posts are constructed from a solid vinyl wood alternative. Machined from 3/4" solid PVC these post measure 5-1/8" by 5-1/8" and 40" tall and are designed to slip over a standard 4 by 4 post. They come with matching finial top. We will sell complete or knocked down (easily assembled with trim nails and/or PVC cement).
$120.00 each with finial caps
$100.00 each unassembled (knocked down)
Ipe (Pau Lope) Ironwood Chamfered Rail Spindle.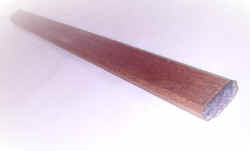 These sleek spindles are made from the strongest and longest lasting wood you can buy. Ipe or Pau Lope (a Brazilian Iron wood). So dense it does not float, this density attributes to the durability of the wood. A deep olive brown with a rich grain that patinas to a lovely silver finish if left untreated. Because of the incredible strength of the material these 3/4" by 1-5/8" spindles are much stronger that larger spindles of other woods. This is one wood that will out- perform any composite. Spindles are 3/4" by 1-5/8" and 28" long with all four sides chamfered and the end grain has been sealed. Pre drilling is recommended for construction. 1-1/2" x 1-1/2" square spindles also available at same rate $5.00 each
Copper Green Verde Patina Rail Spindle.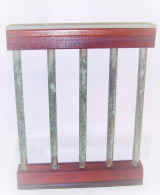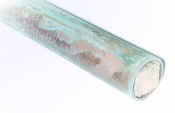 Create a whimsical railing with these copper spindles. These spindles are wood filled so they may be installed with all traditional construction methods. (We bore 3/8" holes and blind screw from underneath). Spindles have a green Patina finish which will continue to improve with time and the elements. Spindles are 1-1/8" by 28" will we result in 36" high rails with 3-1/2" toe spacing. $15 each
Railing Post Finial Caps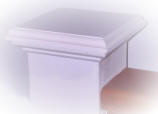 Available to fit standard 4x4 post or larger size king posts, Solid PVC These caps slip over top of post and can be glued or finish nailed.
$25.00 each 4x4, 6x6 or our king post size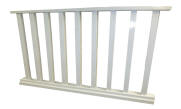 Solid Vinyl Rail Sections

available 4' 5' or 6' sections assembled, trim to fit. easily installed, set up for 36" rail height with standard 2x caprail and 3-1/2" kick space.
4' $150
5' $195
6' $250
contact us at decks@cox.net to place order of specialty deck components