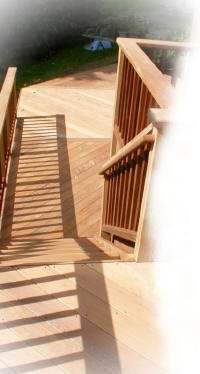 Deck designs: Good planning is the beginning of every job. A project will only be as good as the plan or design. Drawing and sketches are the real foundation of the deck. Years ago, and unfortunately on occasion still, a carpenter would get a basic idea of what he wanted to build, get plenty of lumber, and start changing the plan to overcome any oversights, or complexities.
In most cases the carpenter would receive comments like, "good enough," "not bad considering," "almost right." Well times have changed. With the rise of the cost of building materials, good planning is now more important than ever. If a deck or any construction project is planned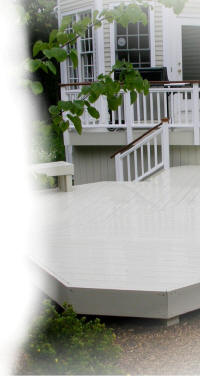 on the computer, it is completely thought through. There won't be any guesswork; all of the adjustments have been made on the computer screen, not on your deck! Today's computer aided design (CAD) systems are far more precise and accurate then any other form of drafting.
Welcome to our deck design studio. Check out the various elements that go into successful deck designs.
The type of materials, the shape of the deck, the rail design, the floor pattern, the various deck options, these important choices dictate whether your deck stands out and makes the grade. Very import to consider in your deck design and where a pro can make a difference, is factors like traffic patterns, stair placements, table and chair placements, adding a grille spot, weather a 2nd level is beneficial, integrating hot tubs into the deck design.
Deck Specialists, Inc. will assist you in designing the perfect deck for your home!
Online Estimate: We can work with you from your sketches and pictures to design and quote your project even if you only have a very rough idea what you are looking for we can work from that. We will assist you in coming up with the perfect deck design for your application.
DESIGN DECK DESIGN DECK DESIGN DECK DESIGN DECK DESIGN DECK