Creative floor patterns:
can make or break a great deck design! From simple straight or diagonal decking to elaborate herringbone patterns you need to know which pattern to apply.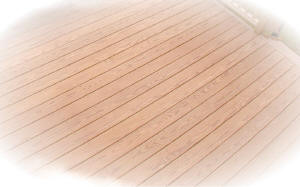 Straight & Diagonal: ideal for smaller decks or deck sections, as is usually limited to length of decking boards. Also nice to have multi level decks using alternating directions.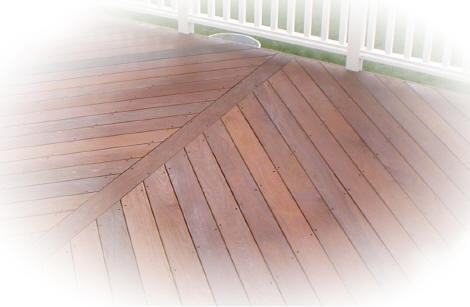 Single herringbone: very pleasing visually! Adds great interest to even simple decks! We rarely charge any extra for this option as we are well prepared and accustomed to working this into most of our decks. it also adds strength and rigidity especially to higher and free standing decks.
we cannot stress enough how something like a custom floor pattern will dress up even a small simple deck, and make it much more appealing then just some straight decking boards, which can look like a pile of lumber on a plain jane deck.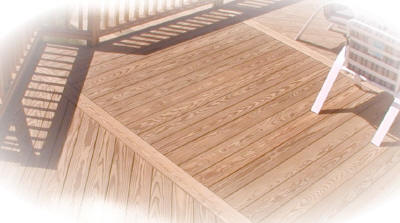 Combo patterns: can be quite nice and versatile. Again adding interest to overall design and diagonal boards add strength. This pattern shown works best with symmetrical 3 bay decks. Also, practical at times is a series of straight bays to capitalize on maximum decking lengths without having to cut in random splices.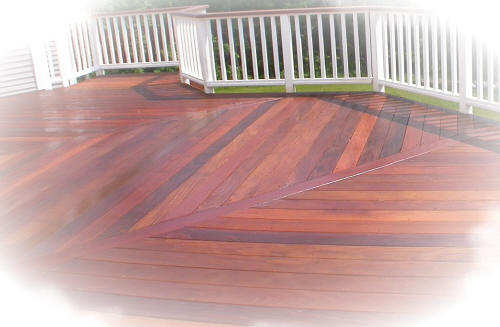 Herringbone: Alternating diagonal sections separated by a rib board. This is our favorite choice, with the most visual appeal. We developed this technique for larger decks as there is no size deck we cannot make this system work. Again, as we specialize in this decking floor system, and many custom high end custom deck features but do not charge extra for this deck pattern. We are often asked if herringbone floor pattern produces extra scraps or is a wasteful deck pattern, but it is surprising how just the opposite is true, we are able to use all lengths of lumber and fit in most every cut off where the boards get shorter.