Rails Choosing the proper railing for your deck can be a very important step. Some key factors would be: Visibility (some rails are more open than others.), Style (a contemporary rail might not fit your traditional house.), Strength (some rail designs are inherently stronger than others, for areas that might have longer spans or subject to rough housing like a pool area). We feel our white solid vinyl deck rail system is the best in the industry.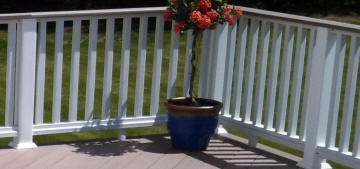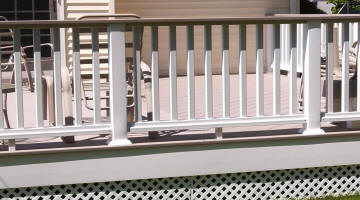 Pictured to the left are our colonial solid vinyl deck rail with Ipe caprail (top), our white solid vinyl rail system is manufactured by us from white solid hdpe plastic lumber and the most versatile in the industry. although we stock only white we can order black and other colors. Our rails require no extra clunky visible hardware and our rails parts, and spindles are solid thru and thru so they will not rattle, crack or break. We match the caprail to the decking choice, so Ipe caprail for ipe decks and composite color matching caprail with our composite decks. Our rail posts are h

igh quality vinyl sleeves over solid treated 4x4's firmly attached to the deck framing and bolted for maximum strength and durability. We also solid Ipe or tigerwood rails as pictured here. solid wood rails can make a dramatic effect and are of course extremely strong and we manufacture all our wood rails systems in house in our wood shop. we also off custom PT treated deck rails.
Below we have PT or pressure treated rails. To the left is again our colonial style, while on the right although very similar is a traditional rail . The traditional rail uses a better grade sleek spindle, that we manufacture from 5/4" premium material rather then conventional square stock material


Many of our deck photos feature the boxed King post system, This is an optional rail system and can add a dramatic touch to some projects. King posts are usually used in conjunction with the border decking or picture frame system and white PVC fascia boards. This is a upgrade to our standard vinyl deck rails. (ask for pricing)

The Boxed or King post colonial rail, shown here our solid vinyl deck rails with Ipe cap and vinyl finials is another option. Although pricey and maybe too busy for some decks this rail really makes a statement.




here are some high visibility deck rails, using thin metal or aluminum spindles and safety glass panels on this pool deck area. Also notice the decorative finial tops, we can add them on to most of our rails sections.

Sometimes no rail at all is the best option. Decks 30" and lower do not require a rail by code, and a combination of benches, planters and stairs (and maybe a few rail sections) can work out real well
Graspable hand rails: code now requires a graspable hand rail as well on the stairs. We match the caprail material and securely mount a graspable rail on one side of all stairs of 3 treads or more.

Deck Specialists, Inc. goes through great pains to manufacture quality rails sections in our shop. We incorporate precision Jigs and dadoed groves in our rail assemblies as well as blind screw construction! This insures quality construction difficult to achieve in the field and also less time spent at the jobsite

.
lots going on here, stairs and landings can add lots of complexity to a project. many great decks can fall short by not planning carefully in these areas. we have years of experience and careful planning with professional deck plans to make sure these areas come together correctly.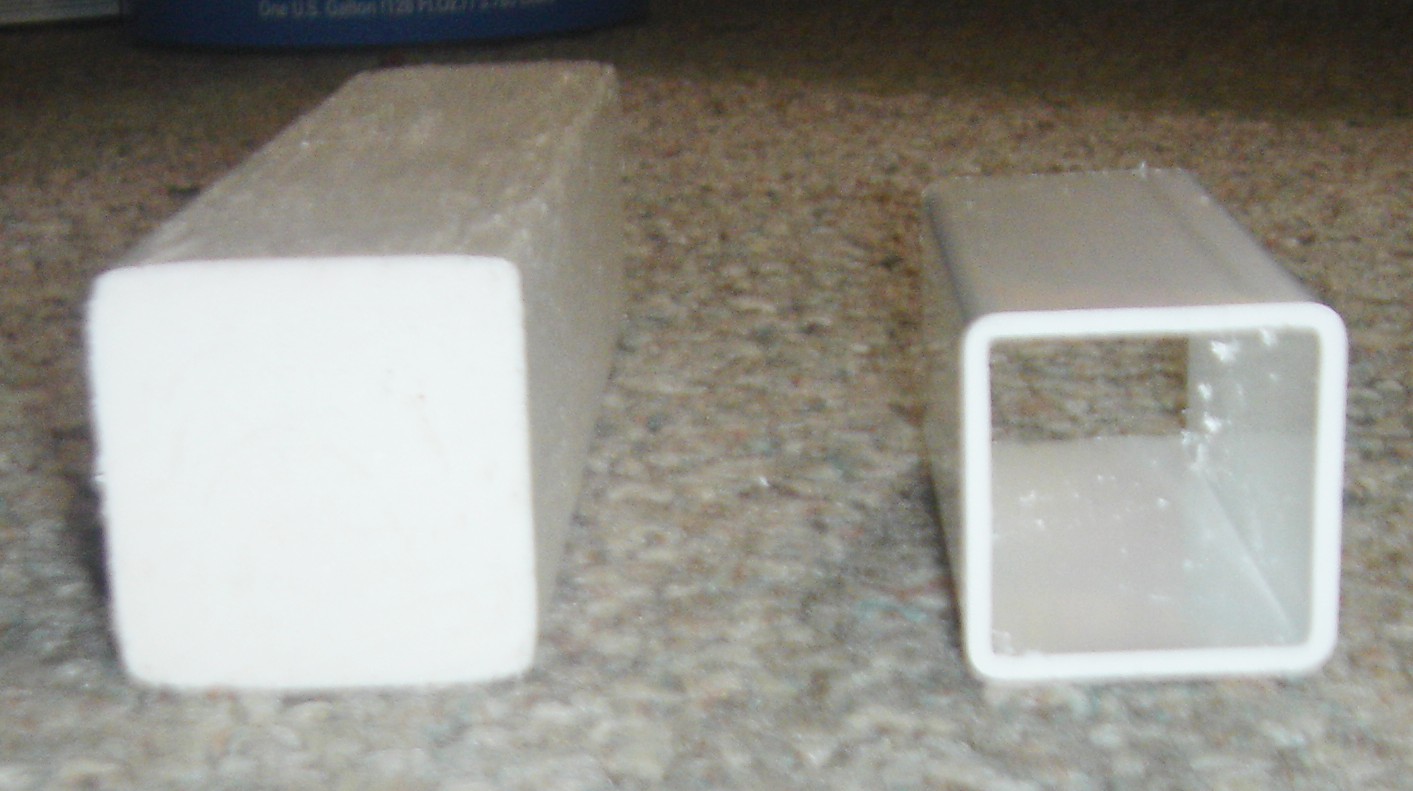 Pictured to the left is our solid vinyl (HDPE) spindle vs a hollow PVC spindle on the right. needless to say our is stronger, less brittle in the cold and less likely to sag. Hollow spindle rails look overly shiny and fake and even rattle in the wind. Ours look just like painted wood with a subtle grain, and are UV and mildew resistant. Actually HDPE (high density Polyethylene) plastic with up to 90% recycled materials .Ours are Maintenance free not requiring and painting or sealing, and easily cleaned with bleach and water, or vinyl cleaners or even soft scrub if necessary.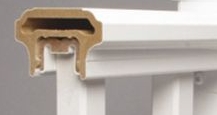 Also please note our spindles (and all the rail components) are solid colored thru an thru. There are many newer composite rail systems with an composite core and what looks like a white painted surface. We are wondering how long such a finish can last?