hidden fasteners
Dozens of companies are flooding the market with a bevy of hidden deck fastener systems. Each one convinced that their product is the most innovated and special, and a "most have" for your deck project. They are trying to sell you their often very costly bits of plastic metal or composite materials We feel all these systems are compromises and will briefly touch on some of the points why we feel your deck budget is best spent elsewhere.
Price: Right off the bat there is the price issue, many HF deck systems can add considerable cost to a project (into the thousands) with the cost of the actual fasteners and the extra labor to install. In a time where quality materials are expensive enough this can easily break the budget. We would rather see you get a larger or more lavish deck for that money.
Spacing: Most hidden fastener systems force the deck spacing (of course they bill this as a
feature) but most of the systems
force a rather large spacing, maybe too large for comfort, this includes the systems with hardware between the boards and also the angled screw jigs. We like to see a proper deck spacing (enough for drainage and expansion) but not soo large as to see the framing (and hidden fasteners?) and large enough where things may get stuck (like a women's high heel in our example).
Repairability: Does it make sense to construct as outside project with no provisions for repair? with most HF systems if a decking board gets scratched stained or damaged in some way, you would have to dissect the deck, pulling up decking from one end all the way back to the board to be replaced, rather then just unscrewing the one board to be replaced. This could make a few minute repair a huge undertaking.
Buckling: here is one of the real serious issues with hidden deck fasteners, by putting a

object (metal clip or plastic cleat) or whatever the fastener is, between the boards you virtually eliminate the ability for the decking (wood or composite) to expand and contract with season temperature and humidity levels. In minor cases there may be a board or two that become uneven and form a trip hazard, in severe cases the entire deck can buckle and have to be completely rebuilt.
Strength: there is no question that "face screwing" or "through screwing" in by far the best possible method of mechanical fastening for your deck. Properly spaced and correctly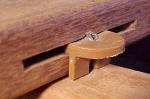 recessed quality screws will undoubtedly last the lifetime of the decking itself. You will be able to replace any single board at any time easily, the wood can expand and contract freely, and the decking will remain firmly held fast and snug to the framing with no raised or buckled boards. The angled screw systems have inherent deficiencies as severally angled screws do not hold as well and can actually split of chip off the corners of the decking.(see sidebar illustration)
Floor patterns/versatility: with face screwing there is a world of possibilities with floor patterns as you are not held back by the limitations of the fastening system. Almost all HF decks have boring straight decking patterns,does straight decking will no screws looks more impressive then a custom floor pattern (like a herringbone pattern) with perimeter boards with proper screws? we certainly don't thing so .
Ascetics: we are used to seeing fasteners in our deck, in fact decks without visible fasters can look naked our somehow missing of somthing. By seeing the screws (properly recessed) we get a felling that the deck is strong and held together correctly, not haphazardly thrown together and waiting to fall apart.
F

ailure: P
lastic clips and under deck fastening systems are sure to fail, and even the better
metal cleats with their angled smaller screws are likely to have problems long term, extreme wood like Ipe are pretty stable but when a rogue board does twist or cup if has amazingly strong properties and could easily defeat a hidden faster. grooved boards and cleats are only holding a fraction of decking, again a cause for concern. Just look at some of the accompany pictures of various hidden fastener systems, are these confidence inspiring? Anyone who stands behind there product knows face screwing is the only sure thing and the only way to fasten Ipe.
Point if fact, most hidden deck fasteners, if not all, require starter boards to be face screwed as well as perimeter boards and other special circumstance where the systems fall short or can not accommodate. So even hidden fastener systems are just mostly hidden. These systems are a series of compromises, and we feel money better spent elsewhere. As our tagline states "decks built to last a lifetime" we just could not trust compromising the integrity of our decks to a "maybe will hold it" decking fastening system. We will stick with the no compromise track proven and time tested method of face or though screwing our decks to be confident your deck will be built to last!